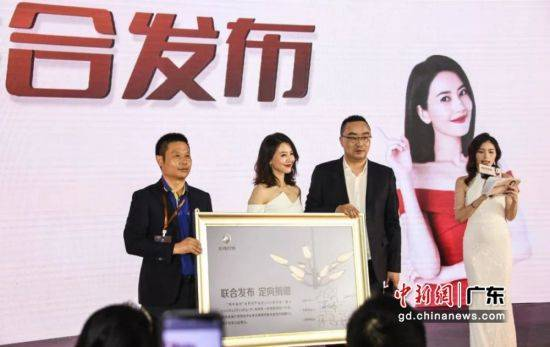 A few days ago, Xie Wei, chairman of Songwei High-end Lighting, and Gao Yuanyuan, a well-known actor, and representatives of Zhongshan Guzhen Town Charity Association jointly signed a donation commitment. Correspondent for photo
China News Service, Guangdong News, March 18 (Reporter Cheng Jingwei) The ancient town of Zhongshan, Guangdong is characterized by lighting as its leading industry and enjoys the reputation of "China's Lighting Capital". After more than 30 years of cultivation and development, a lighting industry cluster with an annual output value of over 100 billion yuan has been formed with the ancient town as the center, covering three surrounding cities and many towns and districts. At present, the town has 38,000 lighting and accessories industrial and commercial enterprises.
The reporter recently walked into the Zhongshan Guzhen Starlight Alliance Global Brand Lighting Center and learned that there are more than 400 first-class lighting companies, a dazzling array of lighting products, and fashionable and avant-garde architectural designs, making the entire store look like a resplendent palace.
At the center, Xie Wei, chairman of Zhongshan Songwei High-end Lighting, told reporters that the current cost of raw materials and labor is rising; from the perspective of consumption, urbanization continues to advance, and the purchasing power of the third- and fourth-tier markets, as well as counties, towns, and towns continues to increase, and the market has high demand for high-end lighting. The demand for lamps with high quality and sense of design is getting stronger and stronger, which brings challenges to the lighting industry, but also opportunities.
"In the context of the epidemic in recent years, enterprises should strive to turn crises into opportunities, and make efforts in product upgrading, manufacturing, e-commerce channels, and brand building to achieve growth against the trend." Xie Wei said that the company's lighting sales increased last year. It is planned to build a smart industrial park, which is expected to be put into operation in mid-2023, to promote the digital transformation and upgrading of production and manufacturing, and achieve cost reduction and efficiency improvement.
Earlier, the government of Zhongshan Guzhen Township also proposed that within this year, the town will promote the digital transformation and upgrading of 30 lighting enterprises to make them "demonstration factories".
Guo Wenhai, secretary of the Zhongshan Municipal Party Committee, said in a recent survey in the ancient town that the lighting in the ancient town is the most representative traditional industry in Zhongshan, and the transformation and upgrading of the lighting industry is the top priority for the ancient town to promote high-quality development. Based on a new starting point and guided by a new round of industrial planning, we must build a world-class lighting capital.
With the active guidance of policies, the pace of industrial transformation and upgrading in the ancient town has accelerated, and efforts are being made to build a national lighting technology center, led by strategic emerging industries such as new generation information technology, light source technology, chips and new materials, and vigorously implement "one specialization with multiple abilities". , to provide a new engine for the world's lighting capital and industrial innovation. (End) Return to Sohu to see more
Editor:
Statement: The opinions of this article only represent the author himself, Sohu is an information publishing platform, and Sohu only provides information storage space services.